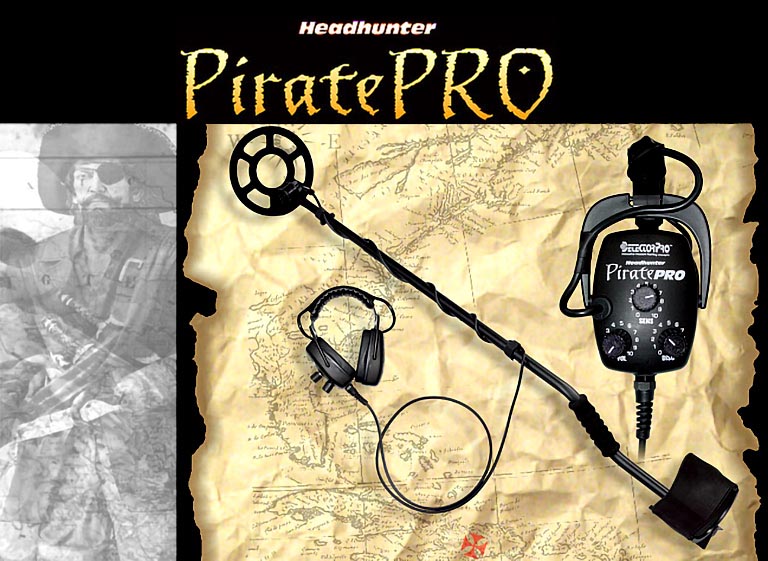 Introducing our NEW Headhunter PiratePRO!
All the great features of our already popular Pirate with an added sensitivity control and arm cup comfort strap… Still has family friendly turn-on and go simplicity and goes anywhere with very little effort to pack and stow!
This is a metal detector that is really light-weight, powerful, hunts in the rain and water on the beach, made of quality materials, simple enough for everyone in the whole family to use and easy on your budget!
Technical Specifications:
Operating Search Frequency: 2.4kHz quartz crystal controlled.
Search coil: 8 inch Concentric, Co-Planar, RF insulated against static interference
Headphone Transducers: Piezo Electric
Audio Frequency: 400 Hz
Controls: Volume, Discrimination and Sensitivity
Search Mode: Silent search, Slow Motion Discrimination
Operating Environments: Salt water, Fresh water, Land
Water Resistant: Accidental drops in water and you can hunt in the rain.
Length: Adjustable from 43″ to 53″ with comfort strap on arm cup
Weight w/Batteries: 3.5 Pounds
Batteries: (2) 9-Volt Carbon Zinc (included), Alkaline, or
Rechargeable
Battery Life: up to 50 hours (when alkaline batteries are used in the detector)
Warranty: 2 years
Specifications subject to change without notice